KWC2023 Trick Video Application Rules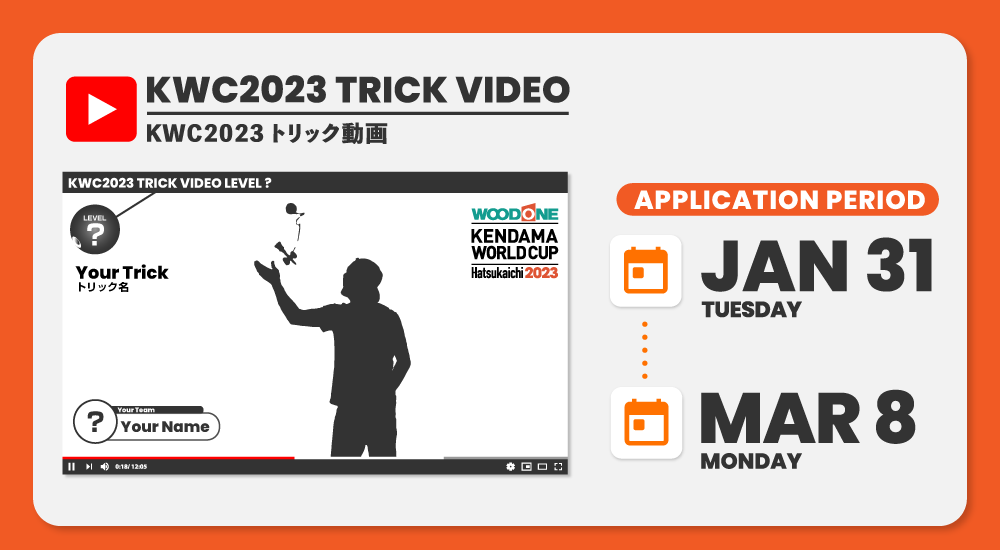 Thank you for your continued support and participation in events created by GLOKEN.
We are preparing for Kendama World Cup 2023 held in Hatsukaichi, Hiroshima, the birthplace of Kendama.
In order to allow more players to participate, we have decided to start an open call for videos to be put into the trick list!
We are looking forward to reviewing all your entries!
Currently, we have been filming and selecting tricks from around the world, and to our surprise, a vast number of players have requested to be a part of the 2023 trick list.
Application Period:
Tuesday, Jan 31st through Wednesday, March 8th (JST, No entries accepted after the deadline)
TRICK VIDEO SUBMISSION FORM:
https://forms.gle/PaLRDSfrz3vWF5t59
Video Format:
File Type: mp4 / mov
Quality Recommended: 1080p (Full HD, W1920 x H1080) , 720p (W1280 x H720) is also acceptable
Framerate: 60 frames per second (60fps / 59.94fps)
Recommended Equipment:
DSLR, Mirrorless SLR. (GoPro, Smartphone is also acceptable)
No Vertical clips!
Submission Method:
After uploading the file to a cloud storage site (Dropbox, Google Drive, Gigafile), send the link with the application form provided.
We are accepting tricks in different divisions.
1. Existing trick division (Please shoot the tricks used in the past KWC and Kendama Kentei Test tricks)
2. Free trick divison (please freely film tick in your choice)
Up to 3 videos per divison (up to 6 videos) per person (1 group).
* If you are applying for 2 divisions, please send the form twice.
Filming Rules:
Keep both the Kendama and your hand in frame for the entire duration of the trick. (Please leave 5 seconds of film before and after the trick for editing purposes)
Do not send us your failed attempts. (If you are unable to edit video, please tell us the time when you completed the trick in the form provided)
Do not use Ultra Wide Angle lenses or Fisheyes, as the corners and sides become distorted. (Under 24mm for Full Frame sensors, 16mm for APS-C sensors)
Film in a well-lit area. Avoid silhouettes.
Do not add background music.
Try to film so that the trick is easy to understand.
Participation Agreement:
Do not share your videos until the KWC2023 Trick List has been announced.
All copyrights for submitted clips belong to GLOKEN.
Please understand that trick videos will permanently be shared through GLOKEN, and personal information like names and team names will be displayed.
GLOKEN will not inform you about whether your trick will be used or not. Please understand that we are unable to answer any questions regarding trick selection.