KENDAMA WORLD CUP 2015 INFORMATION
Now it's official, Kendama World Cup 2015 is going to be on the 18th and 19th July in Hatsukaichi city, Hiroshima Japan.
We are announcing that WOOD ONE Co., Ltd will be the main sponsor of Kendama World cup this year.
The tour will be starting from the 16th-21st. We are super excited to see you here at the birthplace of kendama and share awesome yabai times with you all!!! Stay tuned for more info!
We will upload the trick list of this years Kendama World cup soon. Also we will post information about the tour and registration in May.
Live Streaming
Day 1

Day 2

Day 1 – Round 1 & 2
-Choose 10 different tricks in total from the trick list, the first 5 for Round 1, the rest of 5 for Round 2. You will get the points corresponding to each trick's level. The maximum score for each attempt is 50, the total is 100.
– Round 1: Try 5 tricks in 180 seconds. Use ONE kendama.
– Round 2:Try other 5 tricks in 180 seconds. Use ONE kendama.You can use different kendama from Round 1.
– Top 24 players go to the Final Round, and additional 8 players will be granted wild cards for the Final.
IN CASE OF A TIE / DRAW If two or more players are equal score, their rankings will be determined by the SQUARE basis of the Final Round.
Day 2 – Final Round
– Go up to the stage, try different tricks (level 3 or upper) from the list as many as possible in 180 seconds.
– Points are the SQUARE of the trick's level. You will get 100pts from level-10 tricks, 81pts from level-9s, 64pt from level-8s, 49pts from level-7s, and so on.
– You can get points only once from each trick.
– Final Round is not a tournament, competing by the total point you get.
– Use ONE kendama throughout the performance.
– Bring a CD with your favorite song longer than 3 minutes for your stage, if you want.
Rules
– You can use any regular-sized kendama (ken is not taller than 17 cm / 6.7 inches), enjoy playing with your favorite kendama. Put the Kendama World Cup 2015 sticker after "Dama-Check".
– Hole of tama must be ONE, except a string hole.
– Up to THREE kendamas per player can be passed "Dama-Check" for the Kendama World Cup 2015.
– Keep kendamas in excellent condition to avoid any trouble during the play.
– There are no judging points at the balance tricks whether you keep ken and tama stable completely. Go proceed the next part at your style.
– Ken and tama must not touch your hand or clothes while doing balance tricks.
– Don't change or move the kendama's string position by your other hand during the play.
– There are no limits on how many or which direction of turns or flips you do, unless otherwise specified.
How to be granted "wild cards"
– Countries/regions which fail to produce players who qualified may be granted wild cards.
– ONE player from each country/region is picked out, then up to 8 players in order of highest score can proceed the Final Round.
– If less than 8 countries/regions are granted, the quota(s) will be transferred to the eliminated players.
– A total of 32 players go to the final round.
KWC2015-rules_2015.05.14 Adobe Acrobat Document
DOWNLOAD
Tricks
▼ KWC2015-Trick-List_ver.3.0 Adobe Acrobat Document
DOWNLOAD
※Attention
▼ Change the name of the tricks Adobe Acrobat Document▼
DOWNLOAD
KWC2015 Tour & Event Schedule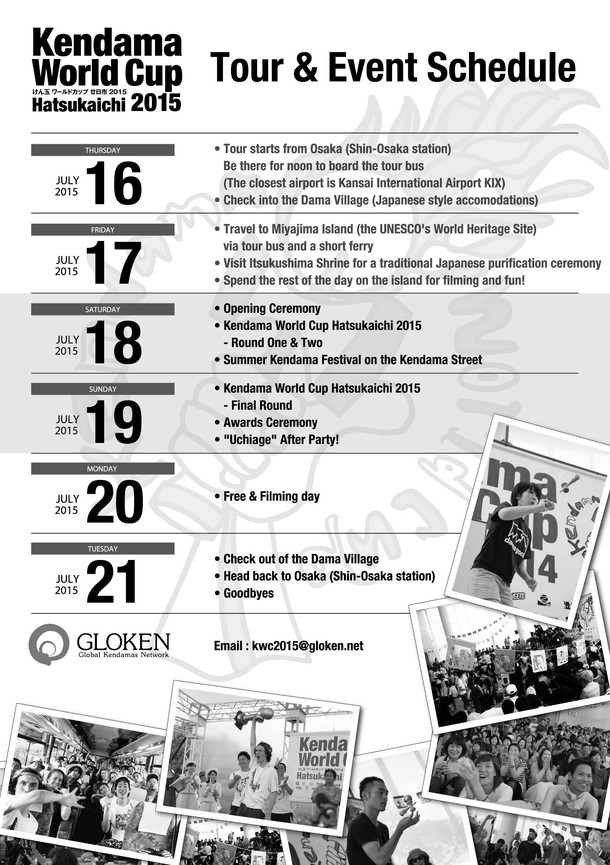 ▼KWC2015 Tour & Event Schedule Adobe Acrobat Document
DOWNLOAD
Application
Please download the file, and fill in all the blanks in this form,and send it to kwc2015@gloken.net by 10th June 2015.
The 36,000 JPY fee includes at most 5 nights stay in Japanese style ryokan inn breakfast included from July 16 and the entry fee of the championship.
In addition, complementary ground transportation, GLOKEN Bus, will be provided between Osaka and Hatsukaichi, Hiroshima on July 16 and on July 21 for return trip.
You can stay any of the night between July 16 and 20, and you can get on the bus or come the venue directly by yourself.
Lunch and Dinner are NOT included in the fee.
▼Kendama WorldCup Hatsukaichi 2015 Tour Application Form
DOWNLOAD (DOC)
DOWNLOAD (PDF)
▼KWC2015-Sponsorship Information
DOWNLOAD
▼KWC2015-Sponsorship Application Form
DOWNLOAD (PDF)
DOWNLOAD (XLSX)
▼KWC2015-Detailed Tour Schedule
DOWNLOAD